November 5th 2004
Berlin – Germany
In 2004, Emilio García Wehbi and team were invited by Markus Luchsinger, curator of SpielzeitEuropa I organized by Berliner Festspiele, to carry out a new presentation of the Proyecto Filoctetes in Berlin, which was finally deployed on November 5th that same year. A group of young local artists participated in the experience. Halfway through the performance, the intervention got abruptly interrupted by the police. Authorities had decided to cancel the action despite the appropriate official permits. Some days later, even after issuing the order to cancel the performance, the local security officer participated in the public debate along with guest artists and intellectuals invited to discuss the incidence of this type of aesthetic actions on the public life. A great exhibition took place at the Seitenbhüne of the Berliner Festspiele hall, exhibiting the material from the three previous editions of the project that had taken place so far.
Lemnos in Berlin
November 5th 2004. Berlin, Germany
Berliner Festspiele / Spielzeiteuropa I
Curator Markus Luchsinger
Concept & Creation: Emilio García Wehbi
Documentation & Production: Maricel Alvarez
Design of puppets: Norberto Laino
Assistant: Julieta Potenze
Associated producer: Intercult
Intercult: Dietmar Niemand, Daniela Titzde
Producer (Berliner Festspiele): Eva Kiefer
Exhibition design: Katleen Arthen
International guest: Hidenaga Otori (JP)
Workshop participants
Irene Anton, Patricia Baumgardt, Tania Bedrinana, Mariela Canzler,Irina Deponte, Anke Dittrich, Sebastian Ebert, Lukas Egger, Pia Flechtner, Jana Friess, Myria Gerardu, Diana González, Celina González Sueyro, Joy Harder, Kati Haschert, Markus Heiniger, Manuela Hoffmann, Raliza Ivanova, Kim Jeong-Suk, Petra Maria Kraxner, Holger Kruse, Romana Lanfranconi, Franziska Liebetanz, Florian Loycke, Johana Malchow, Stefanie Müller, Aleksandra Plizga, Franziska Prechtel, Alexandra Puhze, Martini Schlicht, Marie Alice Schultz, Lisette Schürer, Ivonne Storm, Katharina Wagner, Steve Walker, Barbara Weber, Andrea Wildt, Catherina Wörndl, Kim Young Woo, Jenny Zei.
Locations
Teltower Damm, Zehlendorf
Tacheles, Oranienburgerstrasse
Alexander Platz
Pariser Platz
Kottbussertor
Lustgarten, Palast der Republik
Postdamerplatz
Gendarmenmarkt
Gesundbrunnencenter
Gedächtniskirche, Breitscheidplatz
Sheidemannstrasse, Bus stop Reichstag
Wilmersdorferstrasse
Banhof Zoo
Checkpoint Charly, Koch-Freidrichstrasse
Savignyplatz
Ostbahnhof
Hackescher Markt
Friedrichstrasse & Georgenstrasse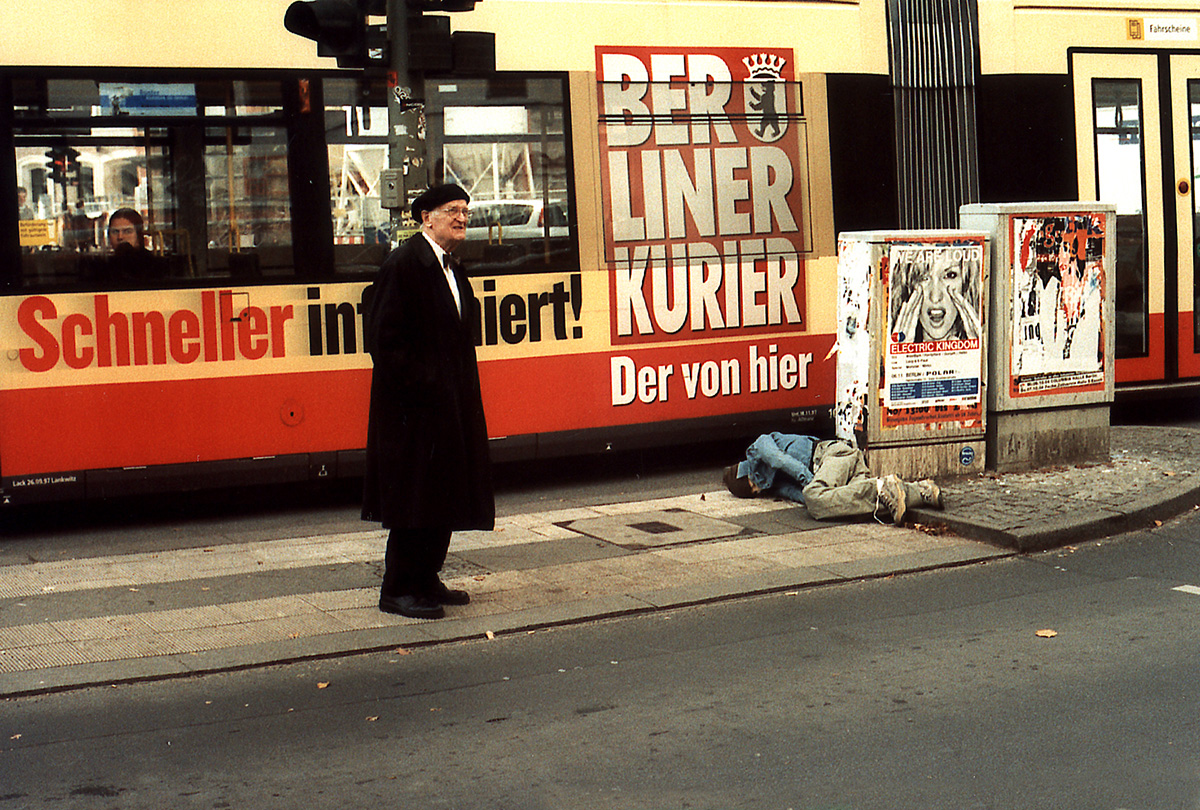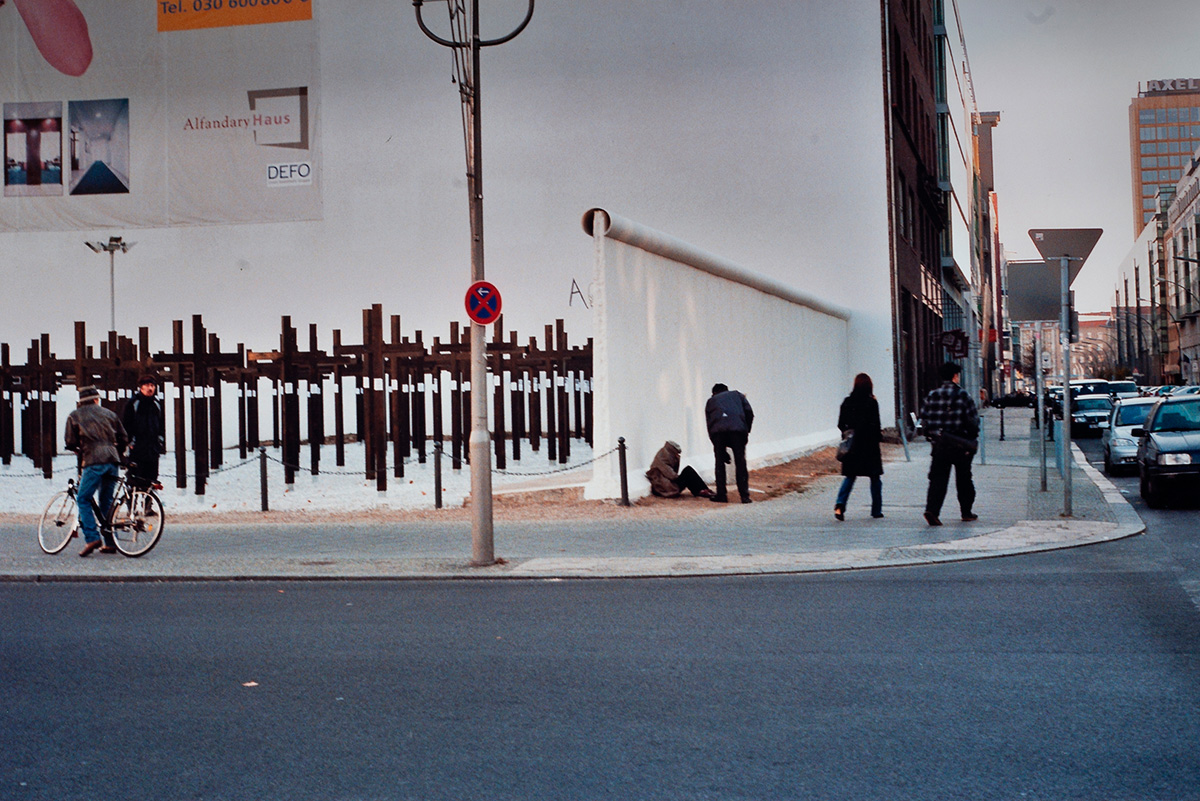 "García Wehbi's project is unique in concentrating on the moment of awareness in which anonymous passersby recognize their transformation into spectators. Filoctetes not only makes marginalized bodies visible but also makes city dwellers visible as spectators, and this is perhaps where Wehbi's intervention most resembles social activism and draws attention to an ethics of spectatorship that arises amid the temptation of voyeurism and the fear of surveillance".
(Brenda Werth, "Theatre, Performance and Memory politics in Argentina")
"In his theater productions García Wehbi uses puppets as intervention objects, as mediators between him and the audience. Facing the question of why not use actors he responds "why would I use an actor if I can have a painless body instead". Therefore, the puppet appears as a pain support, as representation of a suffering body, mirror of sorrow. Some spectators connected it to their personal history: a son harmed in the street and not helped in time, or themselves in a future painful misery. Mirror then, that gives back the collective and individual grief. Puppet, artist, participants and indigents are independent bodies but in the action process they seem to join indivisibly".  
(María Teresa Constantin, "Suffering bodies. Emilio García Wehbi and Philoctetes: Lemnos in Buenos Aires")
"Proyecto Filoctetes sets a group of non-human bodies around the city -dolls, as the experience's participants called them- in situations that were all too human. Situations where the 'excess of humanness' consists in the abandonment, the fall , the dismay, the deprivation, and all kinds of collapses in the vast catalog of contemporary cities. Especially in crisis-hit Buenos Aires, where human bodies are scattered everywhere, strewn around in despair and destitution. They are not dead, they are at a deeply scarred moment of life and they are exposed to the silent and panicked observation of passers-by. They are discarded bodies, on the edge of being transformed into things, defying the moral order of collective perception."
(Horacio González, "Arte Moral")